Welcome to the Dynamic Worldz
A virtual OpenSim Grid (hypergridded).
Where the only limitation is your imagination.
* Hypergird enabled for access to thousands of locations.
* Inworld currency supplied by Podex. ( Gloebit regions are also available)
* Partnering marry or partner the love of your life.
* Voice enabled for private or local voice chat.
* NPC enabled on all regions (except free community land)
* Free land available to make your own home.
* Free Mainland and or Gloebit Enabled Shop for all content creators and designers.
* Daily Region Backups backup's are kept for 7 days before being overwritten. Archived backups are kept for
    2 years.
* Own your own region/sim for as little as $5 per month. We are one of the cheapest and most competitive  grids available.
* Own region restart Region owners can restart their own region
* Basically if you can do it in "Second Life" you can do it here, but with more capability.
*All on high end, high performance, unlimited bandwidth, low load servers for top performance.
News:
Planned outages will no longer be reported to this site. Please visit DynamicWorldz2
for any updates and for news on planned outages.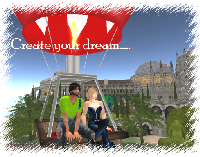 This was our legacy grid splash page. Please go to...
To create new accounts and for login details to the current grid. 
DW1 grid is now permanently shutdown. All data will be purged (deleted) after that date and the URL for this grid will be directed to Dynamic Worldz 2.  We do not supply inventory backups or OAR's due to copywrite laws, prohibiting this
Wishing all our residents and friends a very Happy New Year
Link to DW2
Dynamic Worldz 2 is faster and has more features. Why not give it a try!